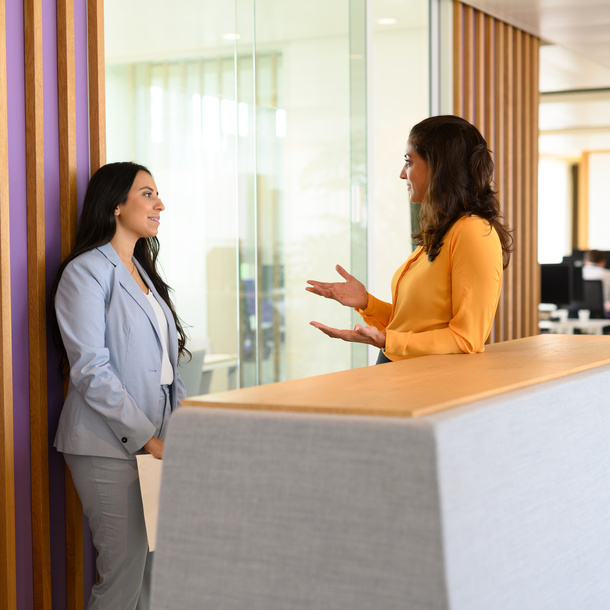 Selection procedure Data & Technology trainee program
Working on data & technology solutions?
At DNB, your work impacts financial stability and sustainable wealth. In addition to 600 tonnes of gold in the vault, we also harbour tens of terabytes [A1] worth of data: our new gold. Gold that needs to be mined carefully – which is where you come in. In our Data & Technology trainee programme, you are part of several teams involved in development, data and security. You work with other trainees and professionals, on various innovations and according to an Agile methodology.
The programme
As a Data & Technology trainee programme participant, you will take on three different roles at three departments in the space of two years. A fully fledged part of our specialised teams, you get familiarised with development, data science and security at DNB while taking courses aimed at technical deepening and personal development.
Examples of what you work on as a trainee:
The continuity of the supply of thousands of reports of financial institutions. This data is our new gold and it helps us observe our core tasks in payment traffic and supervision on the one hand, and discover new insights on the other.
With the SaaS, PaaS, IaaS and other hybrid forms.
At DNB, tailor made applications are being replaced by Cloud applications.
Maintaining a robust, reliable, safe payment service (deposit and cash), reserve management and tender operations.
Securing DNB's IT infrastructure against cyber attacks and authorisation management.
Data solutions for data that is used as input for national and European statistics such as the balance of payments, financial accounts, monetary statistics and statistics for financial stability monitoring.
The programme revolves around your substantive, professional and personal development. You will receive proper guidance and everything you need to give your IT career a flying start.
1. Registration 2 September through Wednesday 7 October
We would like to receive your motivational letter, complete resume and Bachelor's and/or Master's grades list in order to process your application.
2. Resume and letter selection
Once your application has been received, the selection procedure begins. The following criteria are used for the first selection:
You have a good foundation in both the Dutch and English language (at least B2 in both languages).
You have at least two years' work experience.
You graduated no later than 1 January and are available fulltime.
Your motivational letter should convey who you are and why you want to work at DNB. We also select on the basis of affinity with data and technology and with the financial-economic and social context that DNB operates in, allowing you to take on multiple roles at multiple departments in the areas of data, development and security. You want to stay up to date on the latest developments in data and technology and improve your proficiencies in those areas. In addition, you are result-oriented, resourceful, cooperative and proactive.
3. Online assessment 8 through Monday 12 October
After the first resume and letter selection round, an online assessment (cognitive test) is conducted. Based on your resume, motivational letter and the result of your online assessment, we determine whether your will be invited for the selection day.
4. Selection day between 26 and 30 October
We invite no more than 18 candidates for the selection day, which consists of several elements including a selection interview with DNB employees about your resume and competencies. You also get the opportunity to chat with DNB staff over lunch and drinks, including our current trainees, to find out whether our Data & Technology trainee programme is right for you. Upon our positive evaluation during the selection day, you are invited back to discuss your employment conditions.
5. Employment conditions and screening 2 November
The employment conditions interview takes place in the week following the selection day. During this interview, we will explain the employment conditions and screening procedure, among other things. For the screening procedure, this position is classified as profile 2a.
6. Commencing your traineeship 4 January 2021
Welcome to DNB! First things first: a sit down with our trainee coordinator to get to know each other. Next up, DNB's general introduction programme followed by a separate onboarding programme for the trainee group to familiarise you with the DNB organisation, your mentor and of course your co-trainees.
Want to learn more?
If you've got any questions about recruitment, please feel free to contact Rosanne Gossen, campus recruiter, 06 5249 6712 or send an email to r.gossen@dnb.nl. If you've got any substantive questions about the trainee programme, please get in touch with Marjon Reitsma, talent development programme manager, 06 5282 9050 or send an email to m.reitsma@dnb.nl.