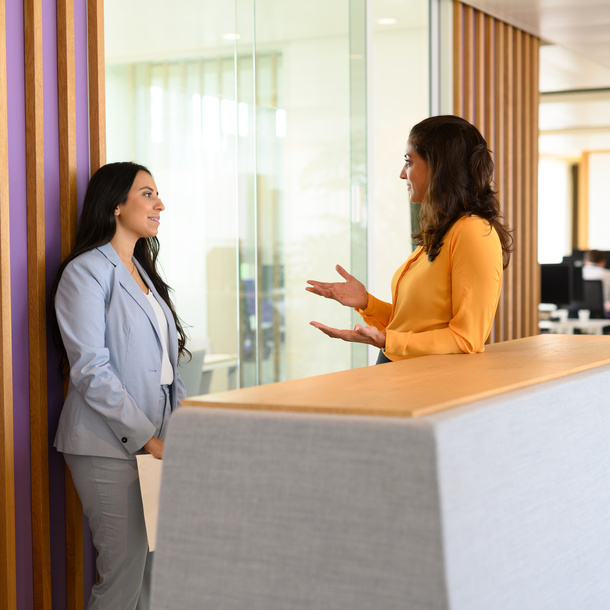 Selectionprocedure DNB traineeship
The traineeship is currently not open for registration. As soon as the new dates are available, they will be announced on this website.
1. Registration    
In order to process your application, we'd like to receive your motivational letter, complete resume and the grades lists of your Bachelor's and Master's.
2. Resume and letter selection
The selection procedure begins as soon as we receive your application. The following criteria are assessed first:
You have a solid foundation in the Dutch and English languages (at least B2 for both).
You have at least two years' work experience.
You graduated no later than 1 September of this academic year and are available fulltime.
Your motivational letter should at least convey who you are and your motivation for joining DNB. Another important selection criterion is how broadly oriented and deployable you are, to make sure we can place you at multiple divisions and in various roles. An interest in DNB's core duties and affinity with financial-economic and social topics is important. As are analytical capabilities, proactivity, result-orientation and a cooperative mindset.
3. Online assessment
Our initial resume and letter selection round is followed by an online assessment (cognitive test). Based on your resume, motivational letter and the results of your online assessment, we decide whether or not to invite you for the selection days.
4. Selection days
The first selection day consists of a substantive case, a Q&A with DNB trainees and your motivational pitch for the traineeship. The second selection day consists of two interviews and a group assignment. Upon your successful completion of these selection days, we are happy to invite you back for an employment conditions interview.
5. Employment conditions and screening
Selected trainees are invited for an employment conditions interview in the following week. That is where we will explain the employment conditions and screening procedure. For the screening procedure, this position is classified as a 2a profile.
Want to learn more?
Get in touch with Marjon Reitsma, trainee manager, 06 5282 9050 or send an email to traineeship@dnb.nl.