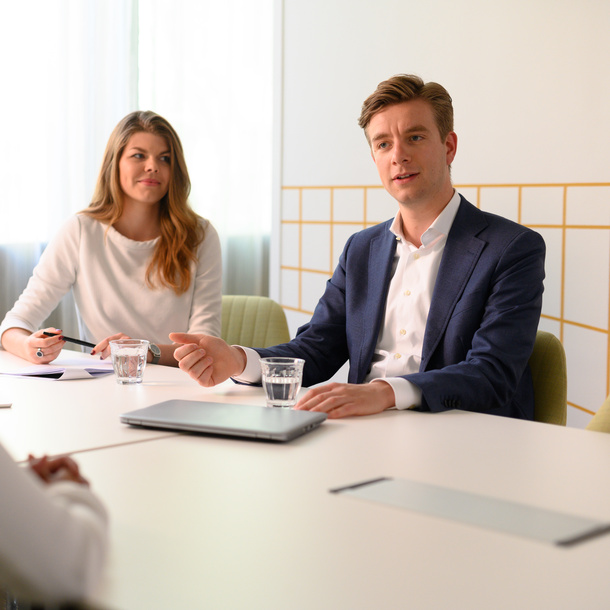 Here is how to apply to DNB
01 -

Submit your application

Once your application has been submitted, you will receive a confirmation email right away. Within two weeks, we will send you a substantive response to your application.
02 -

E-assessment

For most vacancies, we ask that you make an online assessment prior to the first interview, consisting of cognitive tests and/or a personality questionnaire. This assessment can be completed at home.
03 -

First interview

This interview is intended to get to know each other. It is usually conducted by the manager or an experienced team member of the department relevant to your application, and a recruiter.
04 -

Second interview

When both parties are left with a positive impression after the first interview, we will invite you to come back. This follow-up interview usually includes another manager from the same division and a (senior) team member of the department relevant to your application.
05 -

Case, third interview and/or assessment

Are you applying for a position as a regulatory supervisor or policy officer? The first or second interview is often combined with a written assignment or a case study. Of course, you will be informed well in advance if this is the case. Depending on the level of the position, a third interview conducted by the division director and/or a role-specific (external) assessment may follow.
06 -

Employment interview

Is DNB the right fit for you? And are you the right person for the position? If so, the recruiter will offer you a contract during the employment interview.
07 -

Screening

Once the terms of employment have been agreed upon, we will conduct a screening. You will find the specific screening profile in the vacancy description with more information on the screening.
08 -

Welcome to DNB

Upon signing your contract, you will receive a warm welcome to the DNB team! We do this with an introductory programme, allowing you to get familiarised with our organisation and your new colleagues. The interactive programme includes two introduction days and an onboarding app.
More information about the screening
download