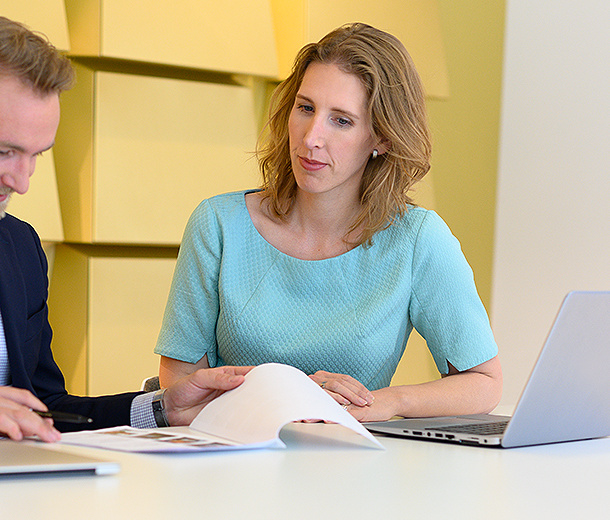 The financial world is in a constant state of flux thanks to changes in legislation and regulations and due to technological innovations. This means new opportunities, but also risks. As a legal expert with DNB, you will analyse these risks and use your findings to issue recommendations that are both practical and workable.

We supervise banks, pension funds, insurers and other financial institutions, and our legal experts are very closely involved in these activities. Financial institutions must comply with various Dutch laws and regulations, including the Financial Supervision Act, the Anti-Money Laundering and Anti-Terrorist Financing Act, the Pensions Act and Solvency II. Legislation at the European level is a factor too, of course. Our legal experts work in multidisciplinary teams together with our supervisors and specialists to devise clear answers to highly complex questions.
Legal Affairs
DNB's Legal Affairs Division employs quite a few lawyers. These legal experts advise our Board of Governors, Supervisory Board, management and staff on the legal aspects of their work. They bear responsibility for compliance and integrity, and they have the authority to impose orders subject to penalty and administrative fines on institutions that have breached applicable legislation and regulations. They usually engage external legal counsel in the case of administrative law or civil law proceedings.
Are you able to read between the lines?
DNB is active in a wide variety of areas, covering a broad spectrum of legal endeavour. Some of our legal experts join us straight out of law school, whereas others are seasoned professionals who have practised law with private firms or who have worked in the private or public sectors. What do they have in common? They are all professional, proactive and solution-oriented. Moreover, they all welcome cooperation and the exchange of knowledge. Do you want to put your legal expertise to work in a broad, societal context? Browse through the vacancies below or sign up for our job alert.
Read the stories of our employees