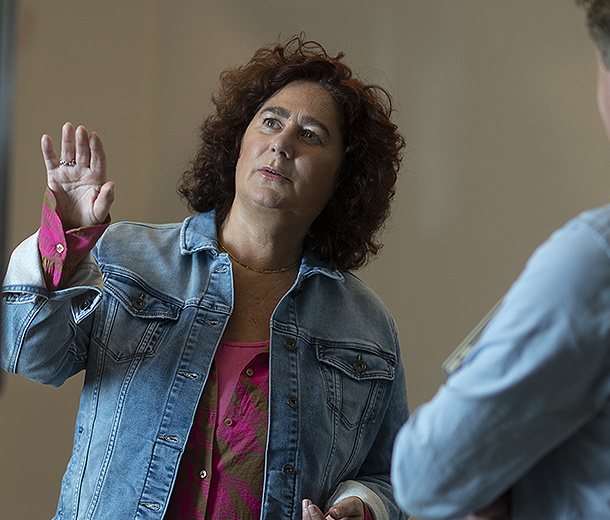 Technological innovations like virtual currencies, robotisation and blockchain technology have caused seismic shock waves in the financial world. At DNB we therefore need experts in the field of IT and data to make sure we can continue to fulfil our mission.
We embrace data-driven digital working methods so that we can leverage data streams for maximum effect. As  IT or data specialist with DNB, you will have a broad scope in helping us getting the most out of these activities. For example, you will take the wishes and requirements of user groups as input for creating dashboards, reports or bespoke applications. Or you may work on ensuring the continuity of data streams for the reports that financial institutions are required to submit.
You build IT, you run IT
DNB's IT specialists are responsible for all IT solutions at the bank: from the nuts and bolts of workspace infrastructure to the intricacies of highly complex statistical applications. Agility is the name of the game, and their motto is "you build it, you run it". In other words, they work in teams to build and administer complete IT systems, bearing full responsibility from concept to finished product. They are also involved in developing applications used by the European System of Central Banks.
Data: vital for thorough supervision
We conduct supervision of banks, pension funds, insurance firms and other financial institutions to ensure a reliable financial system. Data is a powerful tool, and it is playing an increasing role in these activities. Our data specialists use technological innovations and analysis techniques to identify and respond to risks.
Will you help make DNB future-proof?
Our IT and data specialists work throughout the entire DNB organisation. They are true professionals who work as a results-oriented team to provide high-quality solutions. They have a project-based approach to their work, and they have a clear affinity for their field, whether IT or data science. Do you want to use your skills to make society a better place? Browse through the vacancies below or sign up for our job alert. 
Read the stories of our employees
Vacancies within this field
Unique and challenging role in European banks supervision as IT and operational risk expert at DNB.

Master

36

IT and data

€ 3.390 - € 6.470 gross p.m.