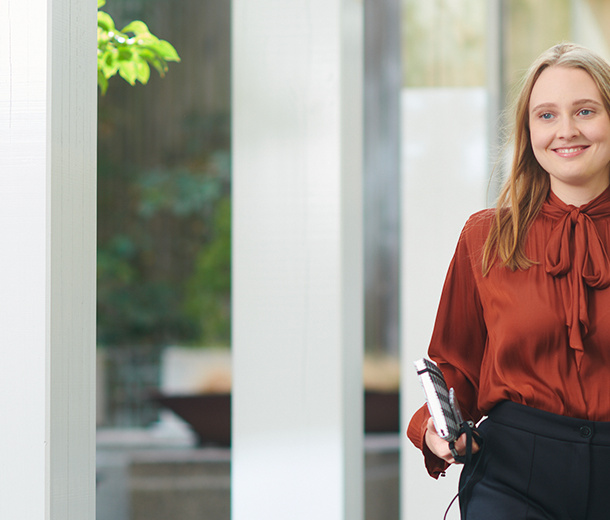 Do you want to have an impact as a DNB trainee?
Joining DNB means having an impact on financial stability and sustainable wealth. Our traineeship offers the unique opportunity to work on a wide range of financial-economic issues that are current and substantive as well as highly socially relevant. The next DNB traineeship will start on September 1, 2022.
For ambitious academics
The DNB traineeship is intended for ambitious academics with a sharp analytical mind. You are eager to learn, have a broad orientation, are quick on the uptake, proactive and do not give up in the face of disappointment. You have a cooperative mindset, are focused on improving the organisation and of course you have affinity with financial-economic and social topics. Departing from your own expertise, you can develop yourself through the great diversity of DNB's activities.
The programme
The two-year program of the DNB traineeship is entirely devoted to your substantive, professional and personal development. In two years' time you will work for three different divisions. You will spend eight months in each division, each time in a different position. You will learn about several of DNB's core tasks, such as the supervision of financial institutions, the operation of payment systems or monetary policy. In all placements, we take into account your educational background, ambitions and capabilities.
Personal development
The development of our employees is very important to us at DNB, both professionally and personally. You'll spend approximately two days a month on banking and skills training and personal development, individually and in groups. You'll be supervised by the traineeship programme manager, a former trainee, your supervisor and your trainers.
Some components of the training program:
The Basic Supervisory Training (BoT) and the Basic Central Banker Training (BCB).
The opportunity to take individual professional training courses, for example in the area of Fintech, a course in the direction of legislation and regulation or data science.
Professional skills: such as writing speeches and policy documents and conducting supervisory interviews.
Personal development: you will receive individual coaching and group training sessions with your fellow trainees.
The DNB Traineeship is celebrating its 10th anniversary! And who better to tell you why you should choose our traineeship than our former trainees from the past 10 years?
The selection process
2. CV and letter selection
5. Employment conditions and screening
6. Starting your traineeship
September 1, 2023
Miscellaneous responsibilities
During your DNB traineeship, you'll often work as a compliance officer or policy officer. In each position, you'll be given your own responsibilities as part of a multidisciplinary team working  on answers to complex questions in fields such as fintech, new supervisory legislation, cybersecurity, and the housing market.
Previous trainees have worked on, among other things,
Preparing international consultations and briefing President Klaas Knot.
Developing a dashboard showing the carbon footprint of insurers' and pension funds' investments and entering into discussions with institutions about this.
An investigation into the extent to which vulnerable groups can keep up with an increasingly digital payment system.
Evaluating DNB's own CSR (sustainability) strategy.
An analysis of the impact of the introduction of the digital euro on DNB's profits and risk.
Preparing a media appearance by a member of DNB's executive board.
An analysis of the management of climate and environmental risks by banks.
Testing market and credit risk models by visiting national and international financial institutions.
The role of card schemes (Mastercard and Visa) on cash services of banks.
An investigation into the role of cash in suspicious transactions.
A combined DNB-ECB data analysis project on the effect of climate change on energy derivatives.
On-site integrity investigation at trust office.
Setting up the climate stress test.
Contributing to the development of policies and regulations aimed at preventing the involvement of financial institutions in money laundering and terrorist financing.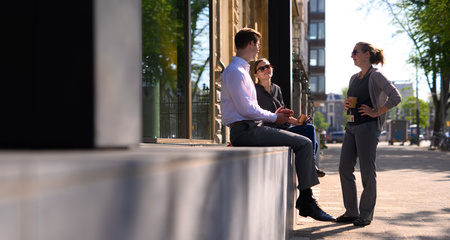 Want to know more?
Naomi Okoto
campus recruiter