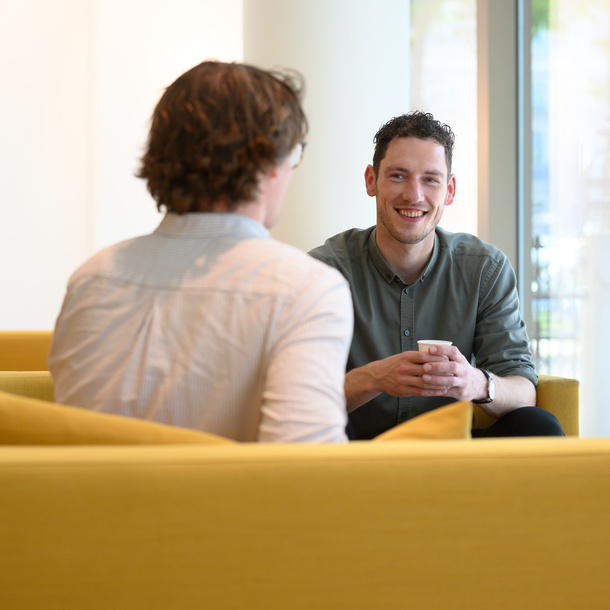 Do you want to have an impact as a DNB trainee?
Joining DNB means having an impact on financial stability and sustainable wealth. Our traineeship offers the unique opportunity to work on a wide range of financial-economic issues that are current and substantive as well as highly socially relevant. The next DNB traineeship will start on September 1, 2021. Registration will open again on April 1.
For ambitious academics
The DNB traineeship is intended for ambitious academics with a sharp analytical mind. You are eager to learn, have a broad orientation, are quick on the uptake, proactive and do not give up in the face of disappointment. You have a cooperative mindset, are focused on improving the organisation and of course you have affinity with financial-economic and social topics. Departing from your own expertise, you can develop yourself through the great diversity of DNB's activities.
Miscellaneous responsibilities
During your DNB traineeship, you'll often work as a compliance officer or policy officer. In each position, you'll be given your own responsibilities as part of a multidisciplinary team working  on answers to complex questions in fields such as fintech, new supervisory legislation, cybersecurity, and the housing market.
Previous trainees have worked on, among other things,
Analysis of emerging risks in shadow banking
Writing daily updates on key developments in the financial markets for various stakeholders within DNB
Input for Council of the European Union negotiations on macro-prudential banking policy
Organising an international climate conference, in cooperation with other central banks
Analysis of significant European banks for the ECB's supervisory board
An interview with the governing council of a financial institution
A study on the role of central clearing counterparties in the financial system
A speech for our president, Klaas Knot
Want to know more?
Get in touch with Marjon Reitsma, trainee manager, 06 5282 9050 or send an email to traineeship@dnb.nl.
Due to recent developments with regards to the Covid-19 virus, DNB has adjusted its policy for meetings including the recruitment procedure for the DNB traineeship and the Data & Technology trainee programme. Your health and that of our staff is our primary concern, which is why we will strictly adhere to the guidelines issued by (RIVM and) our government. This means that the scheduled selection days will proceed in an adjusted format, including online interviews. We have no doubt that the process of getting to know each other will proceed uninhibited.
Got any questions or just curious to learn more about our current trainees' journeys? Feel free to get in touch with any of the listed liaisons or sign up for a digital cup of coffee with our trainees!
Stories of our employees