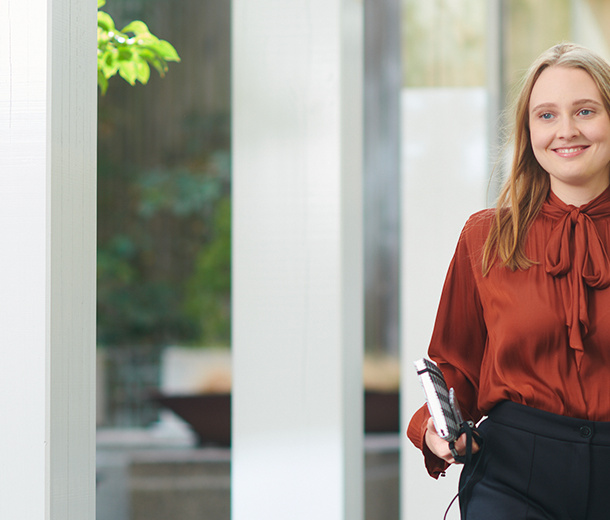 The traineeship for ambitious academics
Do you have a Master's degree from a research university and are you looking to develop yourself across the board? The DNB traineeship gives you the unique opportunity to work on a variety of today's financial-economic issues that are not only intrinsically challenging, but also highly socially relevant. Are you ready to put your analytical skills and keen eye to work for financial stability and sustainable prosperity?
What you can expect
As a DNB trainee, you will work in three different divisions within DNB over two years, in different positions. You will learn about DNB's core tasks, such as supervision of financial institutions, the operation of payment systems and monetary policy. In all three placements, we take into account your educational background, ambitions and abilities. Often, as a trainee, you will start as a supervisor or policy officer, where you will be fully involved and have your own responsibilities.
The traineeship is entirely dedicated to your development in terms of expertise, professional skills and personal growth. As a trainee, you will therefore receive two days a month of intensive support and guidance in content and skills training and personal development, both individually and together with your fellow trainees. The training programme includes several components, such as
General courses: the Basic Course in Supervision (BoT) and the Basic Course in Central Banking (BCB).

Subject-specific training: Fintech, financial law and regulations and data science training courses.

Professional skills training: you will learn how to write an effective policy paper or speech, and how to conduct a supervisory interview.

Personal development: you will receive coaching and training, individually and together with your fellow trainees.
Challenging assignments
As a DNB trainee, you will work on all kinds of projects. Below is a small selection of the many assignments you can work on as a trainee.
Market and credit risk
Testing models for market and credit risk by visiting national and international financial institutions.
Climate and energy derivatives
Conducting a combined DNB-ECB data analysis project on the impact of climate change on energy derivatives.
Digitalisation
Investigating the extent to which vulnerable groups can keep up with an increasingly digitalised payment system.
Card schemes
Conducting research on the role of card schemes (Mastercard and Visa) on banks' cash services.
Carbon footprint
Developing a dashboard showing the carbon footprint of insurers' and pension funds' investments, and engage with institutions on this topic.
Money laundering and terrorist financing
Contributing to the development of policies and regulations to prevent financial institutions from getting involved in money laundering and terrorist financing.
The DNB Traineeship is celebrating its 10th anniversary! And who better to tell you why you should choose our traineeship than our former trainees from the past 10 years?
Seven steps to your traineeship
1. Application
In your cover letter, you should tell us who you are and what your motivation is to work at DNB. What is your affinity with DNB's core tasks and other activities? Which tasks or themes are of particular interest to you? Why do you think you are a suitable DNB trainee? And what is your Master's grade point average?
2. Selection
Once we receive your application, the selection process will start. In addition to your cover letter and CV, we will check if you meet the following criteria:
You have a good command of Dutch and English (both at least B2 level).

You have up to two years of work experience.
3. Online assessment
If you pass the initial CV and letter selection process, we will ask you to do an online assessment (cognitive test). Based on your CV, cover letter and the results of your online assessment, we will then decide whether to invite you to the selection days.
4. Writing test
The writing test is taken at home
5. Selection days
You will receive an invitation to two selection days at our offices. During these selection days, you will participate in a hands-on assignment, a group assignment and two job interviews. If you pass the selection assignments and the job interviews, we will invite you to an interview to discuss the terms and conditions of the traineeship.
6. Terms & Conditions and screening
The terms & conditions interview will be held in the week after the selection days. During this interview, we will explain the terms and conditions of the traineeship and the screening procedure, among other things.
---
7. Starting your traineeship
Welcome to DNB! Before you start, you will have an introductory meeting with our trainee coordinator. You will then start with DNB's general onboarding programme, followed by a separate onboarding programme for trainees. During this programme, together with your mentor and your fellow trainees, you will get to know DNB as an organisation
Want to know more?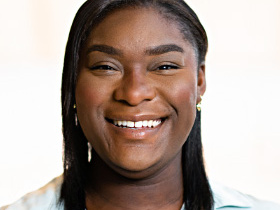 Naomi Okoto
campus recruiter
Marjon Reitsma
Talent manager