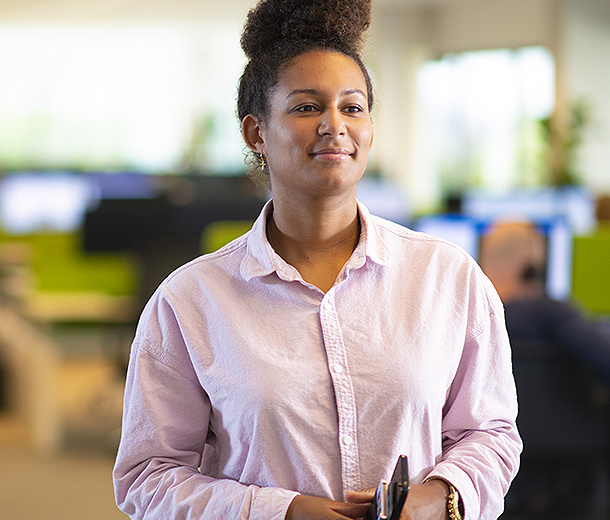 Become a data & technology trainee
The traineeship for ambitious STEM graduates
Do you have a college or university degree in a science subject, and would you like to develop your technical skills, such as programming and working with unique data and cybersecurity? As a Data & Technology trainee at DNB, your work will have an impact on financial stability and sustainable prosperity. Are you ready to develop into a versatile professional at DNB?
What you can expect
As a Data & Tech trainee, you will change positions and departments three times in two years. You will be working in the fields of software development, data engineering, security and cloud in the departments of your choice. For eight months, you will be a full member of your team and collaborate on various innovations. You will also attend training courses with your fellow trainees, focusing on technical and personal development. The training programme includes several components, such as:
Introductory courses on DNB's tasks (Central Bank, Supervision, Resolution, Data)

Agile working Working together in small, multidisciplinary teams using a short-cycle management approach

Stakeholder management: you will learn about the different roles and tasks in the IT domain, such as developing, testing and liaising with users.

Subject-specific training, such as data modelling, application development, programming and cybersecurity.

Personal growth: individual coaching and group training sessions with your fellow trainees.
Challenging assignments
As a Data & Tech trainee, you will get to work on all kinds of projects. Below is a small selection of the many assignments you can work on as a trainee:
Continuity in reporting
Ensuring the continuity of delivery of thousands of reports from financial institutions. The data in these reports helps us to effectively fulfil our core tasks in payment systems and supervision and discover new insights.
To the Cloud
Applications, SaaS, PaaS, IaaS and all kinds of hybrid forms. Custom applications are increasingly being replaced by Cloud applications at DNB.
Secure payment system
Ensuring robust, reliable and secure services in the payment system (cash and non-cash), reserve management and execution of tender operations.
Protection against cyberattacks
Monitoring DNB's ICT infrastructure for cyberattacks, and issuing and managing authorisations.
Insight into statistics
Developing solutions for data that feed national and European statistics, such as the balance of payments, financial accounts, monetary statistics and statistics for supervision and financial stability.
Six steps to your traineeship
1. Application
Enthusiastic about the DNB traineeship? If so, we would love to receive your cover letter and CV! You can apply from 30 March to 28 April 2023.
In your cover letter, you should tell us who you are and what your motivation is to work at DNB. We consider it important that you have an affinity with the latest developments in data and technology, but also with the financial-economic and social context in which we operate at DNB.
2. Selection
Once we receive your application, the selection process will start. In addition to your cover letter and CV, we will check if you meet the following criteria:
You have a good command of Dutch and English (both at least B2 level).

You have up to two years of work experience.

You graduated no later than 1 September 2023 and you are available full-time.
3. Online assessment
If you pass the initial CV and letter selection process, we will ask you to do an online assessment (cognitive test). Based on your CV, cover letter and the results of your online assessment, we will then decide whether to invite you to the selection days.
4. Selection Days
You will receive an invitation for the selection days at our offices. The selection days consist of several components, including an interview with DNB staff about your CV and your motivation for working at DNB, and a competency-based interview. In between, you can speak to DNB staff, including current trainees, to learn more about our Data & Technology traineeship.
5. Employment conditions and screening
You will then start with DNB's general onboarding programme, followed by a separate onboarding programme for trainees. During this interview, we will explain the terms and conditions of the traineeship and the screening procedure, among other things.
6. Starting your traineeship
Welcome to DNB! Before you start, you will have an introductory meeting with our trainee coordinator. You will then start with DNB's general onboarding programme, followed by a separate onboarding programme for trainees. During this programme, together with your mentor and your fellow trainees, you will get to know DNB as an organisation.
Want to learn more?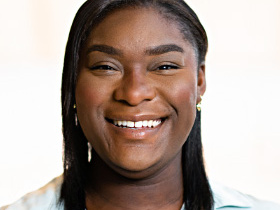 Naomi Okoto
campus recruiter
Kim van der Heide
Talent manager