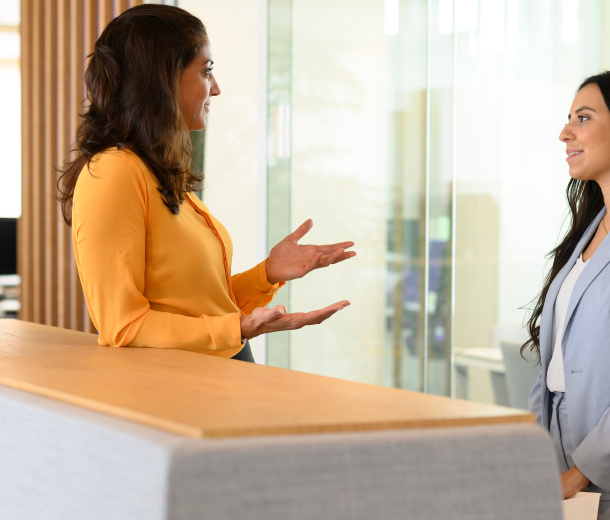 Become a data & technology trainee
Working on data & technology solutions?
At DNB, your work impacts financial stability and sustainable wealth. In addition to 600 tonnes of gold in the vault, we also harbour tens of terybytes worth of data: our new gold. Gold that needs to be mined carefully – which is where you come in. In our Data & Technology trainee programme, you are part of several teams involved in development, data and security. You work with other trainees and professionals, on various innovations and according to an Agile methodology. From 10 October 2022, it will again be possible to apply for this traineeship.
For ambitious tech geeks
The Data & Technology trainee programme is intended for ambitious tech geeks with a Bachelor's or Master's degree. You are tech savvy, resourceful, result-oriented and proactive. You want to grow and consider it a part of your job to stay up to date with the latest developments. We welcome various academic backgrounds from the exact sciences, as long as you have affinity with data and technology and want to develop it within a financial-economic and social context.
The programme
As a Data & Technology trainee programme participant, you will take on three different roles at three departments in the space of two years. A fully fledged part of our specialised teams, you get familiarised with development, data science and security at DNB while taking courses aimed at technical deepening and personal development.
Examples of what you work on as a trainee:
The continuity of the supply of thousands of reports of financial institutions. This data is our new gold and it helps us observe our core tasks in payment traffic and supervision on the one hand, and discover new insights on the other.
With the SaaS, PaaS, IaaS and other hybrid forms.
At DNB, tailor made applications are being replaced by Cloud applications.
Maintaining a robust, reliable, safe payment service (deposit and cash), reserve management and tender operations.
Securing DNB's IT infrastructure against cyber attacks and authorisation management.
Data solutions for data that is used as input for national and European statistics such as the balance of payments, financial accounts, monetary statistics and statistics for financial stability monitoring.
The programme revolves around your substantive, professional and personal development. You will receive proper guidance and everything you need to give your IT career a flying start.
1. Resume and letter selection
4. Employment conditions and screening
5. Starting your traineeship
Want to learn more?
Naomi Okoto
campus recruiter