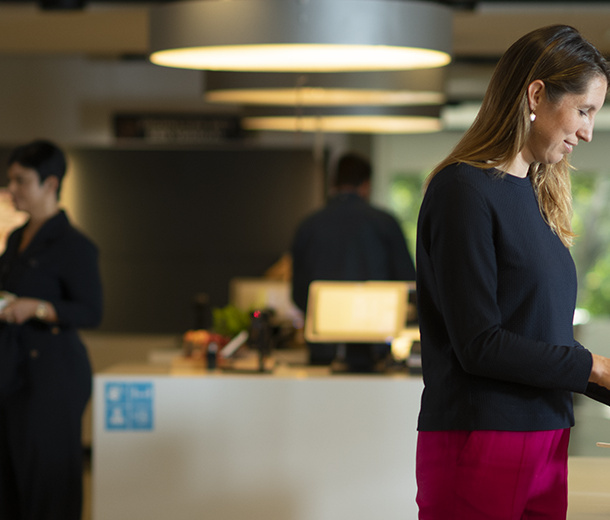 In order to bring out the best in our employees, we want to give them the best. This means offering a good salary in line with our social role in society. We aim for a good work-life balance, allowing our people to find the peace of mind and inspiration they need to excel in their work. And we offer modern, flexible terms of employment that address the needs of our diverse workforce.
Salary
Your annual salary consists of 13 months plus 8% holiday allowance based on 13 months' pay. Factors determining what salary scale you are assigned to include your education and work experience.
Other schemes and facilities
Working week: DNB maintains a 36-hour working week with the option of flexible hours (depending on your activities).
Holiday entitlement: you receive 200 hours of holiday allowance per year with the option of purchasing and selling up to 100 hours annually.
Diversity days: you can take two days of special leave per year for a day of celebration that suits your life philosophy or religious beliefs.
Personal budget: this amounts to over 5% of your gross salary. It can be spent freely and is paid together with your salary quarterly or annually.
Parental leave: DNB offers a scheme for partially paid parental leave.
Health insurance: as our employee, you are eligible to join the DNB collective health insurance scheme.
Health: DNB has its own gym and sports facilities that can be used free of charge.
Pension: DNB offers a pension scheme based on average pay with conditional indexation and a personal premium contribution of 6.1%.
Commute: we offer full commuting reimbursement with a second-class door-to-door public transportation subscription (train, tram and/or metro).
DNB's collective labour agreement
DNB's collective agreement has been agreed between DNB and the trade unions "Association of Employees of DNB NV" (Employees' Association) and FNV Finance. It sets out DNB's terms of employment. The full Dutch text of the collective labour agreement can be found here.
The separate schedule of amounts is an integral part of DNB's collective labour agreement. It specifies amounts to which the collective labour agreement refers, but which may be updated during its term. Examples include the minimum and maximum salary scales following changes in structural wage development (salary increases under the collective labour agreement). DNB's schedule of amounts can be found here (Dutch only).