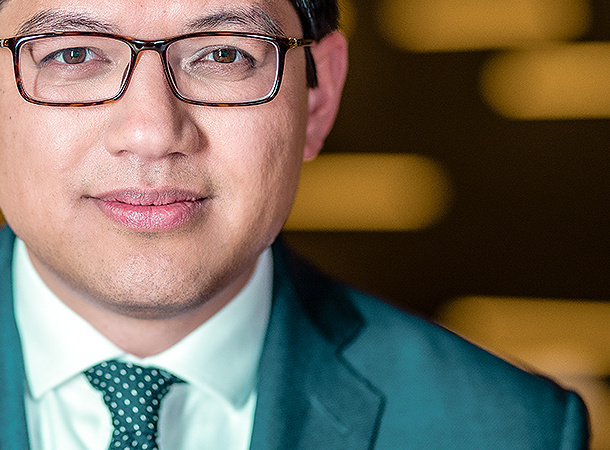 Supervision is a two-sided coin
"Four years ago I was employed at an international law firm where I was an expert on the scope of the Financial Supervision Act. I advised companies on the intricacies of the legislation, often pointing out loopholes and other ways to skirt its constraints. At one point, I really started to wonder whether my activities were above-board. In 2015 I decided to cross over to the other side and take a look at DNB. As a Senior Counsel in the Supervision & Legislation team, I see to it, and this is somewhat ironic, that certain activities now fall within the scope of supervisory legislation.
In addition, I also focus on issues relating to payment systems, an area undergoing rapid developments such as the introduction of PSD2 and the revised fourth Anti-Money Laundering Directive. Our work in the Legal Affairs Division is demand-driven. This means that we receive questions from supervisors or others at the central bank that we answer as thoroughly as possible. In doing so, we keep the interests of society and all parties involved in mind.
Risks posed by blockchain technology
For example, cash is no longer king these days. Electronic transfers are becoming the name of the game, and all sorts of new payment systems are sprouting up. A couple of years ago, our Payment Systems division asked us to inventory the potential risks posed by virtual currencies. They also wanted to know if it would be possible to develop our own DNB crypto. When facing such complex questions, we put together a project team consisting of specialists from various fields. That's the best way to examine issues from various angles.
As a lawyer, my role is to pinpoint all the potential legal risks. For example, I look at the technology behind blockchain systems and whether or not payments with cryptocurrencies result in finality. It's really ground-breaking from a historical perspective. In the past we used to print money here, and now we are testing cryptos.
 Working at DNB means making a real difference: you devote yourself every day to making sure the Dutch financial system is solid and secure.
Instant payments
The greatest part about working at DNB is getting to work on legal issues that have often never before been explored. You create your own analyses, develop your own vision on your findings and discuss these with colleagues at DNB and other stakeholders. You work on topics that have broad, real-world impact, often well before the press gets wind of them. Recently, for example, we've been putting a lot of effort into instant payments. That means that a bank transfer is completed within seconds. This new payment standard will be rolled out nationwide in 2019. Sometimes I even make the papers, like when I was quoted in the daily Het Financieele Dagblad just a day after speaking on behalf of DNB at a symposium on the ten-year anniversary of the Financial Supervision Act.
Sharing knowledge
Alongside my work at DNB, I'm also pursuing a PhD based on research into innovations in payment systems and the legal aspects involved. I also lecture regularly at Erasmus University Rotterdam and the University of Amsterdam, an activity that really keeps me on my toes. The students always ask very topical questions, so I have to be completely up to speed on current developments. While lecturing, I always tell my students about my work at a supervisory authority like DNB, and how multi-faceted and enjoyable it is. Lawyers at DNB do not necessarily focus only on supervisory legislation, but also on corporate law, labour law and administrative law. Almost every legal discipline is represented at DNB!"
Stories of our employees