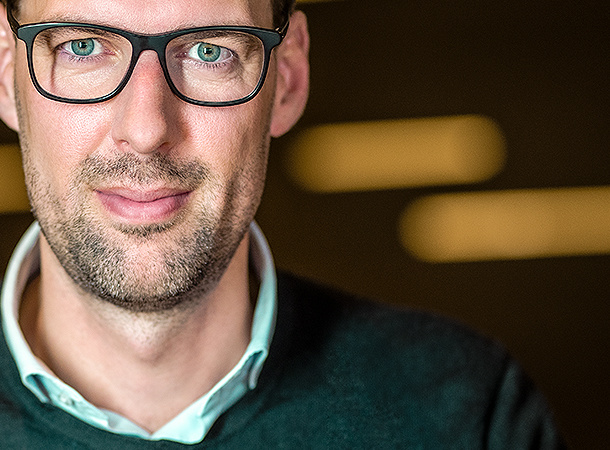 Ruben
Statistics policy officer
Encounter in Frankfurt
"I was at the annual Dutch hospitality evening in Frankfurt enjoying a snack and something to drink. I was working as a statistician with Statistics Netherlands, but I had been seconded to the ECB for two years. I was also giving some thought to my next career move. You might say that the HR representative from DNB caught me at just the right moment. As my secondment was drawing to a close, I sent an open application to DNB. I got a response within a week. DNB had a position open that had not yet been published, and I ticked all the boxes.
Data integration and harmonisation
The opening was for a policy officer in the area of monetary and banking statistics, and that's what I'm doing now. My responsibilities at DNB can roughly be split down the middle. On the one hand, I focus on the integration and harmonisation of statistical data that banks must regularly submit to us. My other responsibilities involve ensuring that our management team is fully prepared for international meetings by supplying them with the statistical information they need in a timely fashion and in a workable format.
In the world of monetary and banking data you've got banks and other financial institutions that are required to submit data on the one hand, while on the other hand you've got institutions and agencies that need to do something with that data. Policy economists at DNB, for example, use such data to advise our President, Klaas Knot, on key policy rates, economic growth forecasts or loan risk profiles. I assess what kind of data the user needs, what the reporting institution must submit, and I look at how to structure everything as effectively and efficiently as possible, keeping all sorts of interests in mind. These days users require more granular data than ever, which means I spend part of my time prioritising data flows.
Interested in an international secondment that dovetails with your career? The world is your oyster at DNB.
Data at an international level
Data integration and harmonisation is primarily an international affair. In my case, I'm closely involved in the development of the Integrated Reporting Framework (IReF) and the Banks' Integrated Reporting Dictionary (BIRD). These two projects are aimed at ensuring that banks throughout Europe structure and report on their data in a uniform way. Statistical quality will improve, information exchange will be smoother and the reporting requirements for banks will ease. I often travel to the ECB in Frankfurt or to other EU Member States to work on these projects. I also regularly work with other specialists such as data architects and auditors. The aim is to implement IReF and BIRD in the 2020s. It's fascinating to be working on projects that will have a major impact down the road.
Sharing statistics
Another of my responsibilities as a policy officer is to write news releases on the statistics we produce. For example, I recently wrote an item for our public news portal about mortgage lending by banks. Home sales have been declining for a while now, and this is reflected in the statistics: banks are issuing fewer mortgage loans. For this news release, I combed through our statistics to identify a newsworthy item that I could interpret for publication. We always try to use plain language and clear charts to appeal to a wide audience."
Stories of our employees