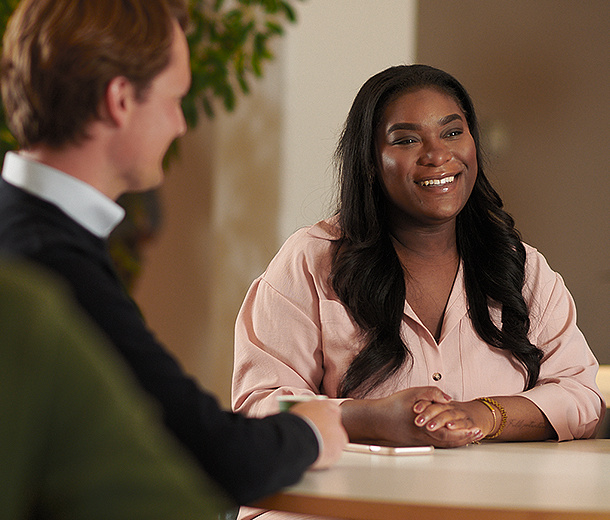 Visible and invisible diversity
The DiverseDNB network is open to all DNB staff who are committed to more visible and invisible diversity. The network creates and fosters acceptance, inclusiveness and solidarity within our organisation, so that everyone can be themselves. DiverseDNB offers a meeting place, a platform and a community – not only for colleagues with a different cultural or ethnic background, but for all colleagues sympathetic to the subject and interested in the mission.
Inclusive work culture
The success of a diverse organisation requires an inclusive work culture, where differences are not only seen and accepted, but also valued. This requires an active role from all DNB employees. Only together can we help develop DNB into an organisation that reflects Dutch society. An organisation in which everyone is heard, and where talent flourishes and is tapped in all its forms.
In the video below, we present Diversity & Inclusion dilemmas to two of our staff members, who respond in a personal capacity.
Activities
In addition to providing a meeting place, a platform and a community, DiverseDNB organises various meetings. If you have a diversity or inclusion-related question, you can always drop by during one of the consultation hours.
DiverseDNB aims to be accessible to everyone and actively participates in policy-making within the organisation.
DiverseDNB stories