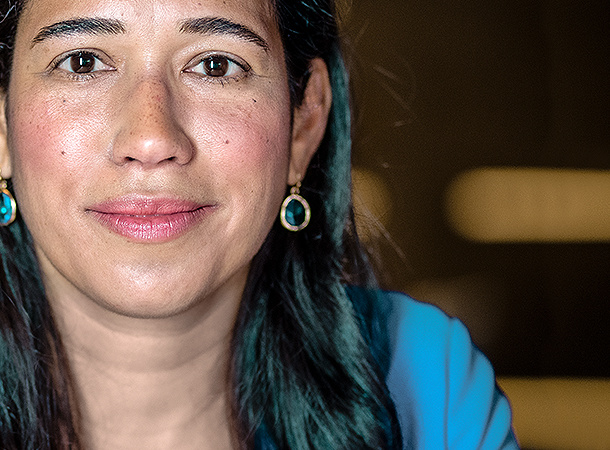 Career switch
"Starting something new mid-career can really energise you. And I should know: I joined DNB in 2013 as a supervisor, and a couple of months ago I made a switch to the position of product owner, a kind of project manager in the IT division. It's a different kind of challenge, but still very interesting and dynamic. And I didn't even have to switch employers! If you feel you're ready for a change at DNB, a whole range of options are open to you.
From processing appeals...
This wasn't my first big career switch. After taking a degree in international law, I first worked for a legal consultancy firm and then for the Dutch Authority for the Financial Markets (AFM). Scrutinising law books, writing memorandums and processing objections: it was all a bit monotonous, and not exactly what I had in mind for myself as a lawyer. I took on a supervisory position while working for the AFM, and I got to know DNB while on a secondment. As the project was winding down, the department head at DNB asked if I wanted to stay, and I jumped at the opportunity.
... to assessing board nominees
At the Expert Centre on Fit & Proper Assessments, I conducted assessments of individuals to see if they were fit for a position on the management or supervisory board of a bank or insurance firm. In addition to assessments, I was also involved in the digitisation of the assessment process. I saw first-hand what a product owner was responsible for, and I found it to be very appealing.
 Digitising internal processes is one thing, but getting people on board is another.
Liaison
As a product owner, you're a kind of liaison between internal customers, supervisors and the development team. I get to the very core of the customer's request and then specify tasks for my team of developers. Recently, for instance, we digitised part of the licensing process in the Market Access department. An insurance firm must obtain a licence before operating on the Dutch market, and the piles of paperwork are enormous in this process. In the past, a courier service would deliver dozens of boxes of documentation to us, whereas now we have a single system for uploading and downloading all the required documents.
Another example: some of our supervisors do a lot of their work on-site, often dealing with multiple institutions simultaneously. We created a framework that enables them to monitor progress in each individual project by uploading an action plan for the institution in question. The framework promotes supervisory efficiency, and it gives others insight into the status of a given project.
New energy
The position of product owner is appealing for various reasons. For one thing, it's an endless source of new knowledge. I've taken all kinds of courses so far, and I've signed up for even more. I am thorough versed in the supervisory process, and when it comes to highly complex IT issues, I'm very fortunate that I can count on the expertise of my computer gurus. As a supervisor, I always enjoyed working with legal experts, economists and actuaries. In my new role, I find the interaction with the IT experts to be particularly energising."
Stories of our employees