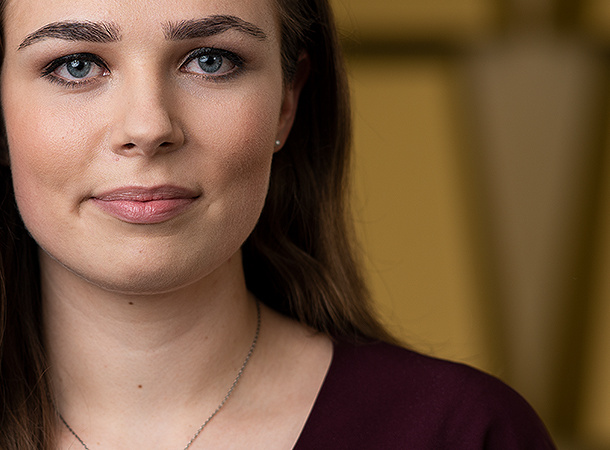 Broadening your horizon
At the time of my Finance Master's, I had little doubt that I would be going for my PhD. Until I came across the DNB traineeship on LinkedIn just one week before the deadline. The programme sparked my interest right away: working at three DNB divisions in the space of two years, gaining a broad understanding of the bank while participating in international workgroups and getting familiarised with all the central banks within the Eurosystem. Did I want a PhD or broaden my perspective with a traineeship? The question pretty much answered itself.
Three positions in two years
I joined the Statistics Division about a year and a half ago. As a policy advisor at the Monetary & Banking Statistics department, I mapped the quality and potential of granular data for financial stability. Not only did I learn a great deal about data, but I also took up programming; not a skill I had thought to be developing at DNB, but one that will certainly benefit my career.
After Statistics, I proceeded to the On-site Supervision & Banking Expertise Divisions. I performed two in-depth on-site studies into credit risks among banks. My activities included interviewing the administration of the bank, document research and data analysis. These studies are conducted on-site to gain a clear understanding of the actual operation of a bank. Plus, you get to apply the knowledge you've gained in university right away, which is very rewarding.
DNB incorporates all opinions in order to reach a single joint vision.
Risk management in Berlin
I joined the Financial Markets Division a few months ago. As a risk management policy advisor, I got to travel to Berlin right away to sit in on a Eurosystem committee meeting about the collateral framework for monetary operations. And once I got back, more than enough interesting tasks were waiting for me. For example, I am co-drafting policy documentation by the committee that issues recommendations to the Governing Council of the ECB. What makes this position so interesting, is the fact that we do risk management for DNB's own investments as well as for the Eurosystem as a whole. It touches a wide range of topics, from the main financial risks of our own investments to the climate risks of our acquisition programmes.
Personal development
Looking back, all three positions offer elements that interest me; from data-driven operations to economic policymaking. The fun part of switching positions on a regular basis is that you get familiarised with new activities every time. It felt like a challenge all three times, as well as a personal victory. The people definitely make it a lot easier. Wherever I go, I always find colleagues who are prepared to share their expertise and reserve time to do it. Plus, everyone is very much aware and vocal about the social impact of our work, which is very motivating.
On vacation with co-trainees
Trainees maintain a great relationship among themselves. You really get to know each other during training sessions and workshops, often conducted in groups. In fact, we get along so well that we went on vacation together for a week last year! For now, I see myself working at DNB even after the traineeship comes to an end a couple of months from now. In any case, secondment is high up my bucket list. Such as gaining some work experience at the ECB in Frankfurt. At DNB, the financial-economic world is at your feet."
Stories of our employees