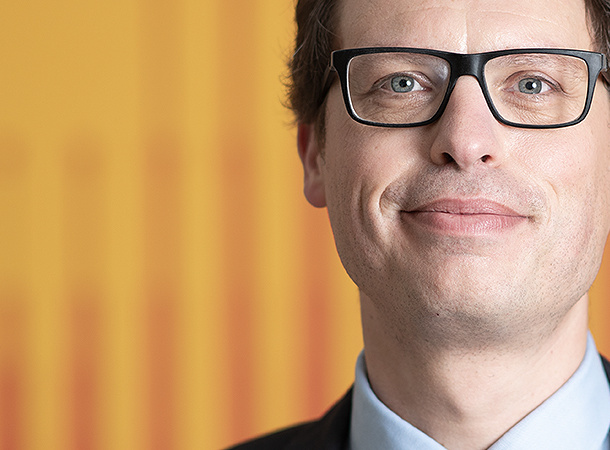 Willem Geert
Product Owner
Abstract and pragmatic
'I immediately had a positive first impression of DNB. On the one hand, we carefully consider what the IT landscape should look like, which software we should purchase or phase out, or which solution or enterprise architecture is most suitable for our specific challenges. But on the other hand, we're also very pragmatic – we have all kinds of data that we need to get to certain specialists, such as the data recently used to provide insight into the effects of the COVID-19 measures on SME entrepreneurs.
Data landscape
Around 100 employees in the Data Services department are involved in developing bank-wide data services. All banks, insurers and pension funds are required to provide us with data, but the question is, how do we organise the technical aspects? For example, what kind of agreements should we make, how do we verify the data, and how do we ensure that the data is secure and traceable? On top of that, we have a variety of platforms that facilitate the use of data, such as a data science platform and our own data lake, and we work with Power BI.
I haven't been in my comfort zone since I started working at DNB.
As the product owner for the architecture team, I determine our team's priorities and communicate constantly with our stakeholders: DNB colleagues in the business. I'm constantly working at two speeds. There's the classical architecture work: shaping the landscape, defining services, creating guidelines. But I also have to be able to provide concrete solutions for making data available at a moment's notice. It's a balance between the long and short term, the abstract and the concrete, and how things should be versus what's actually needed. That's what makes this work so much fun.
Towards the cloud
One of the biggest challenges we're facing at the moment is our cloud corridor. This entails a sudden levelling up in terms of abstraction; you no longer need servers. Producing an application is also much faster, and the removal of a number of boundaries makes our work easier. However, it also requires new skills, starting simply with 'retraining' in order to gain more cloud knowledge. For example, I've attended a data track intended for architects in Azure. I think the most important thing, though, is to change your mindset, and that's something you can't do in just one day.
Increasing visibility
There's always something new to discover at DNB. For example, there's the Deposit Guarantee Scheme, which protects your money in the bank up to an amount of 100,000 euros. That's already a familiar concept, but the data component behind the scenes is not so well-known... and it's huge! In the event that a bank collapses, DNB needs to ensure that we can access the desired data from that bank in time. We also receive thousands of reports each month, all containing large quantities of various data. Being able to unlock it, process it and make it available to analysts is fascinating.
There are so many different routes available to you in doing this work. For example, you can grow within a particular domain, or evolve from a developer to become an enterprise architect, or even grow towards a management role. And if you prefer the certainty of remaining in one place, then that's possible too. Even then, both you and the substance of your work are constantly evolving. DNB is a strongly content-driven organisation with a significant impact on society, and that spills over into the IT field. I think we could be even clearer about what we do, what we're capable of and what we mean for DNB. And in turn for society too.'
Stories of our employees