Sharon- Security coordinator
The dynamics of security
"I've been working for DNB for two and a half years. Previously I worked in healthcare for a long time, but following the healthcare crisis of over a decade ago, I was ready for a change. Security seemed challenging and dynamic and, through a work-study programme, I obtained the necessary qualifications. I then worked in security for various organisations – Schiphol Airport, the flower auction in Aalsmeer and the Rijksmuseum. Yes, I even watched over the Night Watch by night! The switch to DNB really felt like the ultimate move I could make. After all, DNB is the bank of banks, the place where the gold and money is, right in the heart of Amsterdam. In short: a prestigious place to work in security and a job that fills you with a sense of pride. 
Quick promotion
At DNB, I was quickly promoted from security guard to dispatcher, and now I am even a coordinator. A security guard patrols the premises: are all the doors closed? Are there people walking around where they shouldn't be? A dispatcher deals with various alarms. Fire alarms, for example, or notifications that someone is walking on the premises, a door is open too long or a sprinkler has too much pressure. As a coordinator, I make sure all security guards and dispatchers can do their jobs. I handle briefings, I'm responsible for deployment and I am also the link between management and 'the shop floor'. At DNB, a security detail is on duty 24 hours a day, 365 days a year. So you can imagine that coordinating deployment and other processes can be quite a challenge.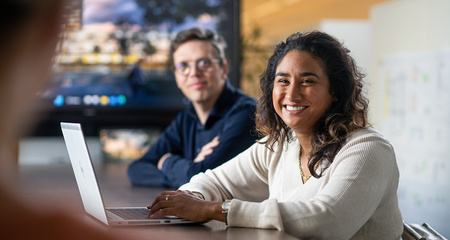 As a security guard, your voice is your most important weapon.
Relocating the gold reserves
Together with a colleague, I helped get the bunker in Haarlem ready for the gold bars. The gold will not return to Amsterdam, but will eventually be moved to our own Cash Centre at a military facility near Zeist. We are currently very busy getting things ready. My team and I are attending special training days where we get to know the facility's procedures, and where we also work on dialogue techniques, learn to listen and ask questions, and practice scenarios with actors. We will do this three times for a week. 
Training and permanent education are another great aspect of working at DNB. Everyone gets a personal training budget, regardless of your position at the bank. I intend to use my budget over the next few years to pursue a three-part degree programme: security & technology, security & law and security management. After that, I will be a fully registered security professional. 
Voice as a weapon
You have to be a certain type of person to succeed in security at DNB. First of all, you need to be physically fit and healthy. You also need to have affinity with DNB's activities to secure the organisation effectively. And you must have the courage to ask questions and engage others in dialogue. As a security professional at DNB, your voice is your most important weapon for defusing potentially difficult situations.  
You get a lot in return: a good salary, a generous irregular hours allowance if you work alternating shifts, a bonus if you bring in a new colleague and a friendly, open team with a lot of knowledge and experience. Some of my colleagues have been with the bank for 40 years and have seen and experienced a lot; you can learn a tremendous amount from them. If all these things sound appealing, then security at DNB is definitely a great job for you."